Premier Protein is a meal replacement shake that helps you lose weight by providing you with the right amount of protein, vitamins, minerals, and other nutrients. You can use it as a meal replacement or snack replacement to help you manage your weight.
Premier Protein For Diabetics – Are They Safe To Use?
When it comes to whether or not premier protein shakes are good for diabetics, the answer isn't as simple as yes or no. It really depends on what type of diabetic you are and how you use the product.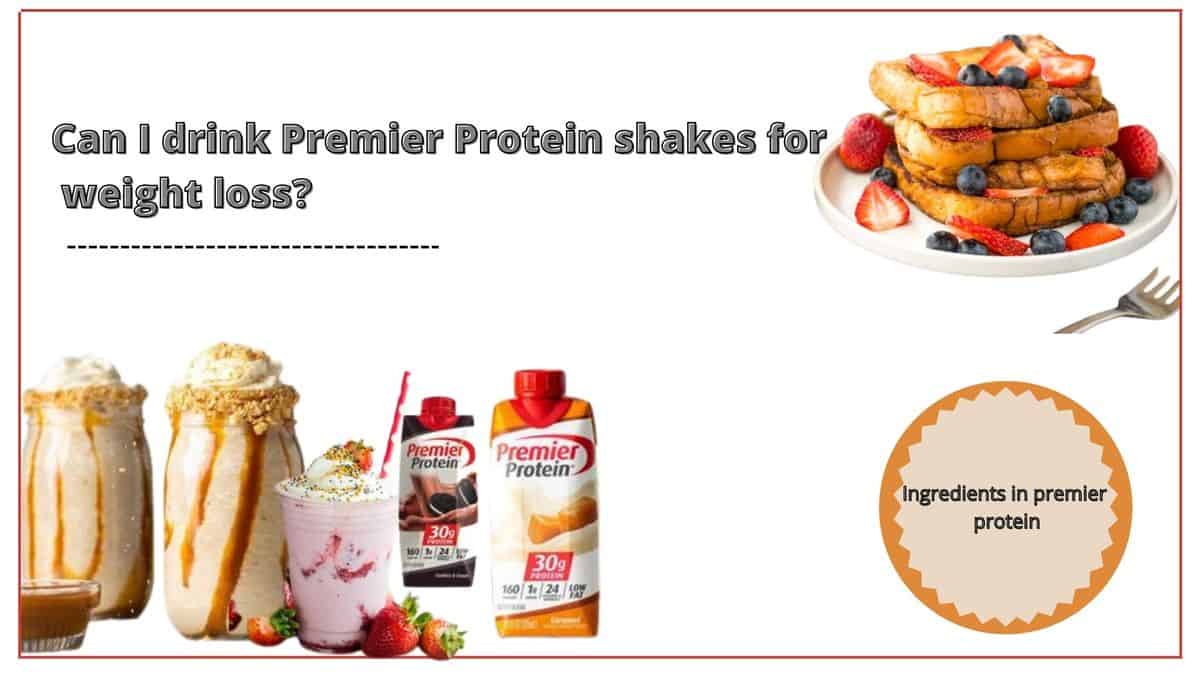 If you're using premier protein shakes as a meal replacement for breakfast and lunch each day, then it's probably not going to hurt your blood sugar levels because it would replace two meals with very few carbs and sugars (depending on which flavor you choose). This could help stabilize your blood sugar levels throughout the day if used properly!
However, if you try using these shakes as a meal replacement for dinner as well as breakfast and lunch, then that's when things might get tricky for diabetics because these drinks have between 6-9 grams of carbs per serving.
Ingredients in premier protein
Premier Protein is a protein powder made from whey protein isolate. It's designed to help you maintain muscle mass and lose weight, but it may not be the best choice for everyone.
Here are the ingredients in premier protein:
👉Whey protein isolate
👉Soy lecithin
👉Natural and artificial flavors
👉Sucralose (for sweetening)
👉Salt (for preserving freshness)
Can I drink Premier Protein while following a ketogenic diet?
You can drink premier protein while following a ketogenic diet, but it's not the best option.
The ketogenic diet is a low-carbohydrate, high-fat diet that has been shown to cause weight loss and improve health markers like blood glucose levels, blood pressure, and triglycerides. The goal of this type of diet is to force your body into a metabolic state called ketosis — when it burns fat instead of carbohydrates for fuel.
The primary benefit of the ketogenic diet is that it causes weight loss by forcing your body to burn fat rather than store it. By restricting carbohydrates (which are the primary source of glucose as well) and increasing protein intake, your body begins producing ketones as an alternative fuel source in the absence of glucose. This results in fewer calories being stored as fat (because there is no glycogen from carbs) and more calories being burned for energy.
How Much Sugar Is In The Premier Protein Powder?
The premier protein powder is low sugar and low carbohydrate protein powder. It has zero grams of sugar, but it does have 4 grams of net carbs per serving. The main ingredients are whey protein isolate, milk protein isolate, and micellar casein. This is why it's low in both carbs and sugar.
It also contains natural flavors, sunflower lecithin, xanthan gum, stevia leaf extract, and sucralose. The stevia leaf extract is used for its sweetening properties, while the other ingredients help to improve the texture and consistency of the powder. This is one of the reasons why it's so smooth when mixed with water or milk.
The premier Protein powder contains no artificial colors or preservatives either. You can use this protein powder as a meal replacement shake or as a pre-workout energy booster too!
Can I drink Premier Protein shakes for weight loss?
Yes, you can drink premier protein shakes for weight loss. This is a great meal replacement shake that will help you lose weight. I have used it myself and love it. It has helped me lose 15 pounds in 2 months.
Many people use premier protein shakes and gain weight because they are not following a healthy diet plan to go along with the shakes. You must eat healthy foods, exercise, and take in enough water daily to see results with using this product.
If you don't follow a healthy lifestyle, then drinking Premier Protein shakes will not have any effect on your weight loss goals.
Is Premier Protein safe for lactose intolerant people?
Premier Protein shakes are packed with protein, so they are safe for those who are lactose intolerant. The shakes contain milk by-products and whey protein, which are both derived from milk.
Milk is naturally lactose-free, but the process of extracting whey and casein from milk can cause small amounts of lactose to remain in the final product. This is why some people may experience mild digestive symptoms when consuming milk products like cheese or yogurt.
Final Words – Premier Protein shakes
However, Premier Protein shakes have been specially formulated to be low in lactose content and safe for those who have trouble digesting dairy products.