Diabetes is one of the most common health conditions and here we have listed the best meal replacement shakes for diabetics after seeking advice from registered dietitians.
Meal replacement shakes can be a quick and easy alternative to a balanced meal, especially if you are in a hurry.
They pack a sufficient mix of both the essential micro and macronutrients that are present in a normal meal.
They can be a lifesaver in your fast-paced lives, so they are a must-have at everyone's home. But diabetics, and health-conscious people in general, should be extra cautious while choosing a good meal replacement shake, as they may be heavily doused with sugar.
Here we have created a list of some of the best meal replacement shakes that are diabetic-friendly and extremely tasty!
Best Meal Replacement shakes for Diabetics
These items are in no way ranked in any order, please go through these options and try the ones that suit your standards.
1. Garden of Life Raw Organic Fit Powder
This product Garden of Life features a superior blend of plant-sourced protein that includes 13 sprouted organic ingredients. Each scoop of this mix, with a serving size of 45.5g, comes with a whopping 28g of protein and 8g of fibre, making this one of the best products on this list.
The caloric content is about 170, and they contain less than 1g of sugar per serving.
It comes with several fat-burning ingredients as well, such as Organic Svetol and green coffee bean extracts.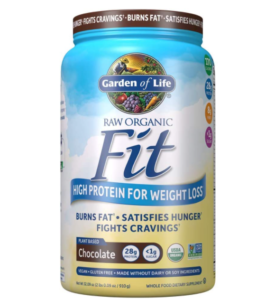 Other Features
✔️ Available flavours – Coffee, Chocolate, Vanilla, Original.
✔️ Certified USDA Organic, Certified Kosher, and Vegan
✔️ Non-GMO project verified
✔️ Free from dairy and soy produce
2. Fit & Lean Fat Burning Meal Replacement
This item packs a rich source of protein as well, with 20g of quality protein per 45g serving. It also provides 10g of dietary fibre, with tons of probiotics.
The best feature has to be the 28 whole fruits and vegetables that go into the making of this meal shake, which includes red beets, kale, spinach, mango, blueberry, pineapple, bananas, etc.
Its all-natural ingredients such as Green coffee beans, Garcinia Cambogia, etc sparks metabolism and fat burning.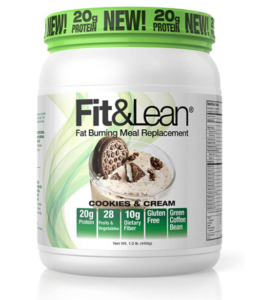 Other Features
✔️ Available flavours: Chocolate, Cookies and Cream, Vanilla.
✔️ 26 vitamins and minerals
✔️ Gluten-free
✔️ No empty calories or added sugar
3. ALOHA Plant-Based Protein Powder
This item has an impressive protein content as well with 18g of protein per serving of 35g.
All of its protein is completely sourced from plants (Pea protein, Brown rice protein, Pumpkin seed protein, and hemp seed protein). It also packs 5g of fiber and contains around 3g of sugar.
It comes in a 100% recyclable and resealable tin case.
It conforms to a keto diet, with real MCT oil from coconut.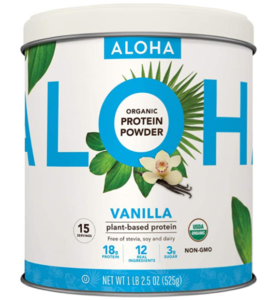 Other Features
✔️ Available flavours: Chocolate, Vanilla.
✔️ Certified USDA organic
✔️ Gluten-free, Soy-free, Dairy-free, Stevia-free
✔️ Contains no sugar alcohols
✔️ Non-GMO
✔️ Good source of iron
4. Premier Protein Shake – Is Premier Protein Good For Diabetics?
This item Meal shake from Premier comes in a 14 Fl Oz ready-to-drink bottle and provides an impressive 30g of protein per bottle.
It comes as a 12-bottle pack variant and contains only 1g of sugar.
Its 6g of carbs include 3g of dietary fibre and each serving has only 160 calories.
It is enriched with 24 vitamins and minerals that will help support your immune health.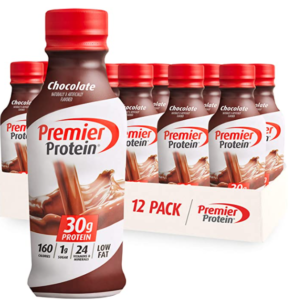 Other Features
✔️ Available flavours: Chocolate, Vanilla.
✔️ Good source of calcium
✔️ Rich in antioxidants, Zinc, and Magnesium
✔️ Keto-friendly
✔️ Gluten-free, Soy-free
5. Glucerna, Diabetes Nutritional Shake
Glucerna is specifically made with diabetics in mind as it features a unique blend of slow-release carbs that helps to manage your blood sugar. It also has 4g of fiber and 10 of protein to leave you feeling full and nourished.
It also provides immune system support with nutrients such as Vitamins A and D, Zinc, and antioxidants (vitamin C and E).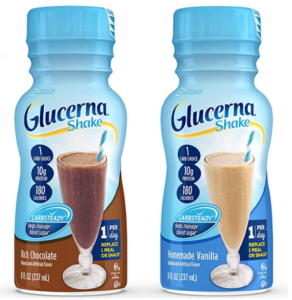 Other features
✔️ Available flavours: Butter Pecan, Chocolate Caramel, Strawberry, Homemade vanilla
✔️ Suitable for those with lactose intolerance
✔️ Contains Milk and soy
✔️ Gluten-free
✔️ Comes in a pack of 24
6. SPLENDA Diabetes Care Shakes
This meal replacement shake from SPLENDA comes in an 8 Fl Oz bottle and provides a decent 16g of protein per bottle.
It is made with micro-filtered milk protein that provides a smooth and creamy tasting shake.
It also provides 6g of dietary fibre and 9g of fat.
It is sweetened with Splenda, which is a zero-calorie sweetener that is a great sugar substitute.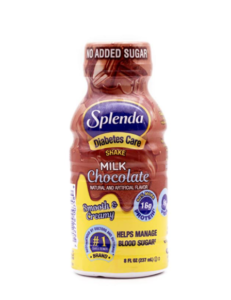 Other Features
✔️ Available flavours: French Vanilla, Milk Chocolate, Strawberry Banana.
✔️ Comes in a pack of 24, 8 Fl Oz bottles
✔️ Soy-free and Gluten-free
7. SlimFast Keto Meal Replacement Shake Powder
This meal replacement shake from SlimFast is specifically made for a keto diet and it is clinically proven for weight loss.
For every serving of 38g, it comes with a healthy 15g of fat from MCT-rich coconut oil, grass-fed butter, and collagen protein.
It provides a total of 190 calories per serving, and it is enriched with its 24 vitamins and mineral mix that includes Vitamins – A, C, D, E, and Zinc.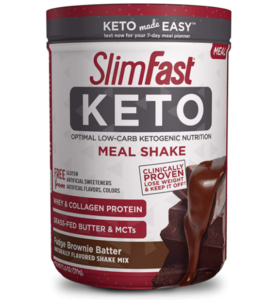 Other Features
✔️ Available Flavors: Creamy Coffee Cappuccino, Fudge Brownie Batter, Vanilla Cake Batter.
✔️ Optimal low-carb ketogenic nutrition
✔️ Gluten-free
✔️ No – Artificial sweeteners, Artificial flavours, or Colors
✔️ Contains soy and milk
8. Designer Protein LITE
This item from the Designer Protein store, packs a healthy amount of protein 20g, per serving size of 34g, which is very impressive.
Their protein is sourced from a mixture of plant-based and whey protein. So, it contains soy and milk.
It also provides a sufficient amount of fiber (4g of dietary fiber).
The Green coffee berry and Garcinia Cambogia that goes into the making of this meal shake promotes fat burning as well.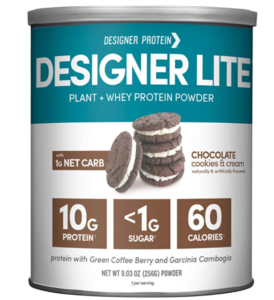 Other Features
✔️Available flavours: Vanilla Cupcake, Chocolate Cookies, and Cream.
✔️ Non-GMO certified
✔️ Gluten-free
✔️ Certified Kosher
✔️ Fat-free and contains no added sugar
What to look for while choosing the Best Meal Replacement Shake?
✅ Sugar: It's a no-brainer. Sugar content is something you should be extremely cautious about, especially for diabetics. 24g of sugar for women, and 36g of sugar for men, are the recommended daily intakes. So it is recommended that you only go for those variants that contain no more than 10g of sugar per serving.
✅ High Protein content: Always go for meal shakes that have a good amount of protein content. An ideal benchmark is to have at least 20g of protein for every 45g serving. So roughly half of your meal shake should be protein.
Protein is an essential part of every meal and it is required for muscle building. It can also leave you full for longer hours so it is excellent for weight loss as well.
✅ High Fiber Content: Meals rich in fiber is essential for promoting healthy gut microbes and aiding the digestion process. Anything higher than 5g of total dietary fiber in every 45g serving will do great.
✅ Caloric count: Too many calories from a meal replacement shake may not be good either. Anything more than 200 calories per serving, is not good for diabetics, so keep away from such items.
✅ Artificial flavoring and colorings: These things can be harmful to our health when consumed regularly, so look for options without them.
Can Diabetics benefit from Meal Replacement Shakes?
Diabetics can derive several benefits from drinking meal replacement shakes daily. Apart from being quick and easy to prepare and having a variety of flavors to choose from, meal replacement shakes can be useful for:
✅ Facilitating safe and gradual weight loss
Since meal replacement shakes usually come with high protein and fiber content, they will help you to stay full for a longer time than typical meals.
This helps you to cut calories during the day and lose weight without causing your blood sugar levels to spike or drop. Safe weight loss can be extremely beneficial to diabetics, which will help improve their condition.
✅ Supplying your body with essential nutrients
It is often found that people on diets unwittingly deprive their bodies of some essential nutrients that they need to survive while focusing on cutting calories. Meal replacement shakes are packed with protein, vitamins, minerals and healthy amounts of fiber, that will substitute a balanced diet, without having to be too cautious about the caloric content.
✅ Helping to manage your blood glucose levels
You can avoid the problems caused by high-carb meals by daily committing to replacing just one meal with a portion-controlled meal replacement shake.
Since all of your nutritional intakes comes in strictly calculated amounts, it is very easy to control your blood glucose levels and caloric consumption.
Final Verdict on Selecting The Best Meal Replacement Shakes For Diabetics
Meal replacement shakes are an ideal time-saver and will provide all the essential nutrients you need from a balanced meal. They are very easy to prepare and are usually safe for all kinds of people.
Diabetics should be extra-cautious when choosing the best meal replacement shake. Sugar content, Protein content, Fiber content, and artificial flavors and colors are what you should be looking out for.
All the items listed here are great options for diabetics and other health-conscious people. Diabetics can actually benefit a lot by substituting one of their meals with a meal shake every day. It can help you keep your blood sugar under control, measure your calorie intake, and even weight loss.
Cheers!