Almost all commercial sugar products and sweeteners are highly processed, which strips them of their natural nutrients and provide mostly empty calories.
Furthermore, they also have a high Glycaemic Index (GI) which makes them potentially dangerous to diabetics because of the huge sugar spikes they can cause in their blood sugar levels.
Coconut sugars can offer a better alternative to most refined sugars and sweeteners because of its many nutritional benefits and lower GI. The inulin present in them even slows down sugar absorption in the body.
So, coconut sugar has been attracting a lot of attention from health-conscious and diabetic consumers. We have listed some of the best coconut sugar products available in the market.
But first, let us look at what it is and how it is produced to understand its benefits.
What is Coconut sugar? How is it made?
Also known as Coconut palm sugar or Coco sap sugar, it is a type of Palm sugar, which is a sweetener derived from various kinds of palm trees.
It is similar in taste to brown sugar and other table sugars with a slightly caramelized flavor.
Since they are not highly processed, its color, sweetness, and flavor can vary depending on certain factors such as the particular species of coconut used, the season, location, harvest time, and even harvesting methods used.
The production of Coconut sugar undergoes a series of tapping, collection, and evaporation processes.
Firstly, a cut is made on the bud stem which releases the sap into some containers placed for collection.
A large amount of sap is collected like this and transferred to another container and it is heated moderately till the water evaporates.
At this point, it transforms into a thick sap syrup which can then be cooled and broken up into small blocks or crystals or retained as a soft paste. It is now ready to be used for cooking a variety of sweet and savory desserts or used generally as sweeteners.
Is Coconut sugar good for diabetics?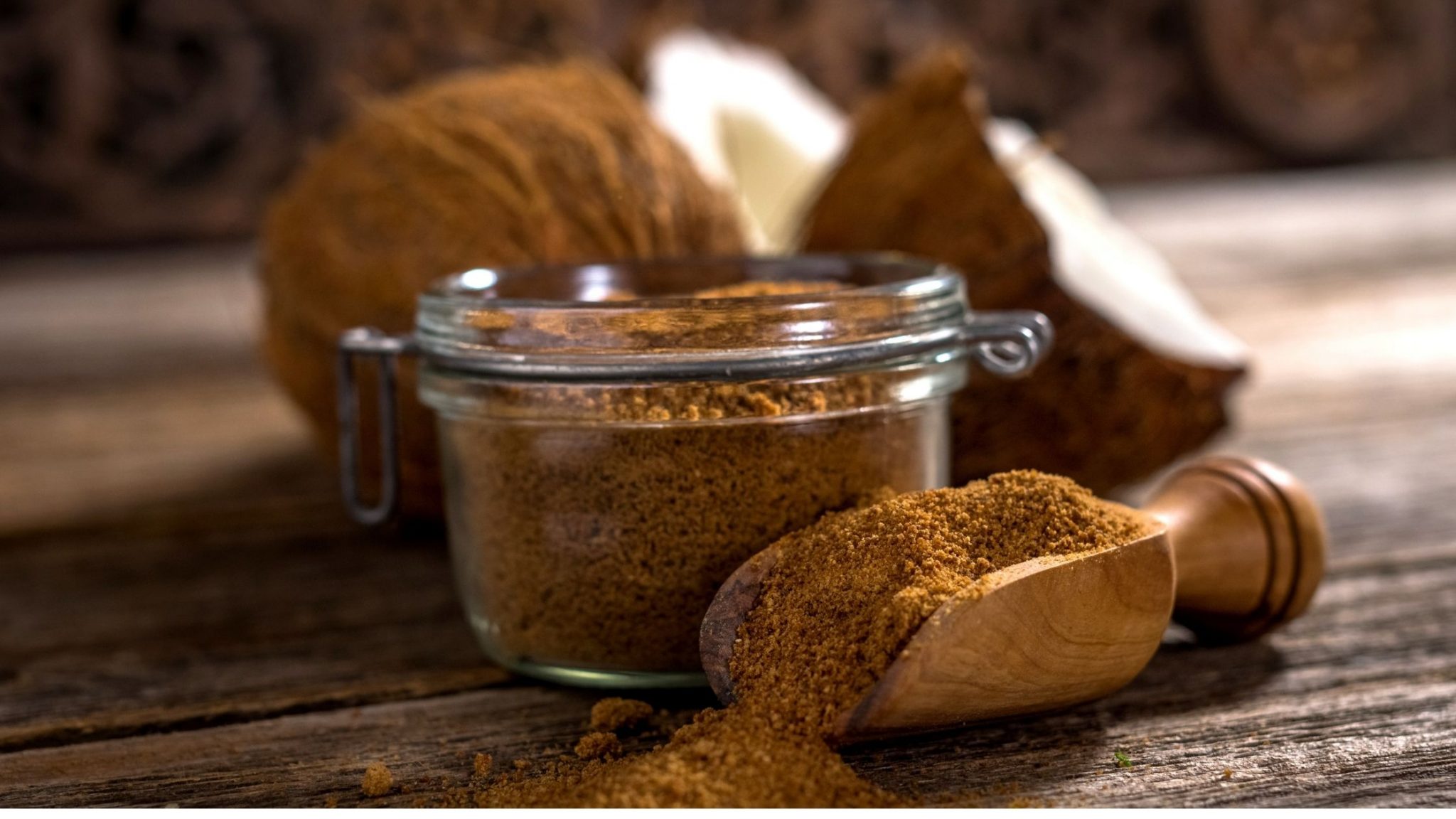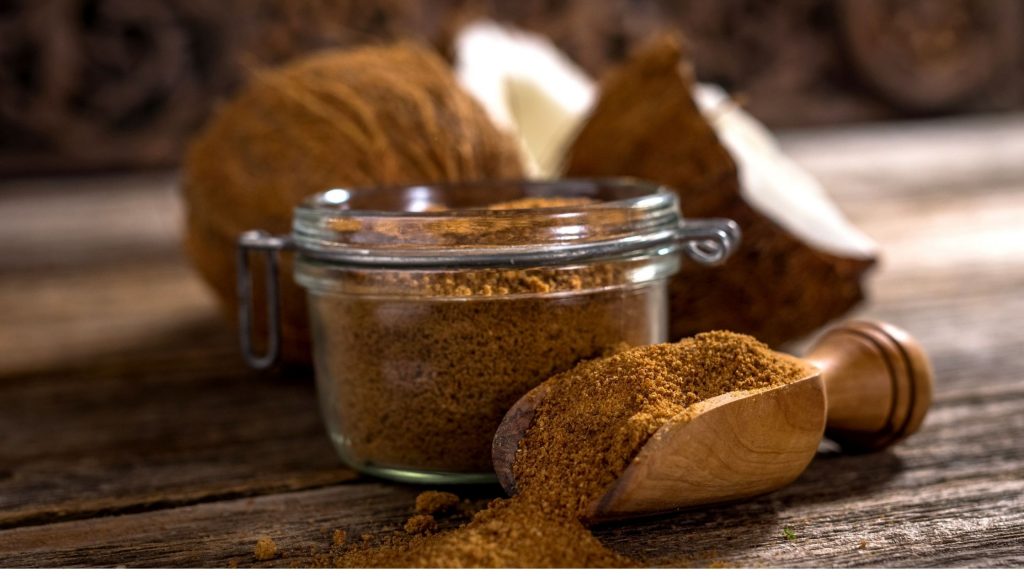 Yes, if used in moderation.
For diabetics, coconut sugar can be an extremely good substitute for most other sugar products because of its 3 major benefits: –
Low Glycaemic Index (GI) foods don't cause huge sugar spikes in the bloodstream so it is very safe for diabetics. 
Coconut sugar has been found to have a GI score of 35 to 40, according to a 2014 report by the national department of Food and nutrition research institute in the Philippines. This score rates coconut sugars as low GI food which make it an attractive option for those with diabetes.
However, the University of Sydney (Australia) Glycaemic Index Research Service had given it a score of 54.
Compared to other refined sugars dominating the market, which has a GI score of 65 by the way, the 54 GI score of coconut sugar is still low and makes it well suited for diabetics.
Inulin is a type of dietary fiber that provides many health benefits to our bodies, especially for diabetics.
Many pieces of research have attributed Inulin to have health benefits such as improving digestive health, controlling diabetes, and aiding weight loss.
A 2015 study conducted by 'nutr metlab', associated with BioMed central, has found that certain kinds of inulin helped in decreasing fat in the livers of people with prediabetes. This seems promising for diabetes research as reducing fat in the liver can help insulin resistance and potentially reverse Type 2 diabetes.
Inulin is certainly a valuable substance having many other health benefits such as promoting good gut bacteria, relieving constipation, improving mineral absorption, and bone health and it may also support heart health, prevent colon cancer and help treat inflammatory bowel disease (IBD).
Lower fructose and calories:
Fructose is naturally present in fruits and other plants and it is what gives them their sweet taste. Fructose is the worst kind of sugar when extracted from these fruits.
Most sugars have high amounts of fructose and comparatively, coconut sugar seems to have the lowest concentrations.
Calories are also a cause of concern for those with diabetes and coconut sugars are found to provide some of the lowest numbers of calories to our body.
Even though coconut sugar is packed with healthy micronutrients and has a low glycaemic index than the regular table sugars you use daily, it is still sugar at the end of the day. So, moderation is key.
As long as you keep the safe margin of 30g of sugar in mind, you'll be fine, and in fact, even better off with coconut sugar because of its many health benefits. Aside from its major health benefits for diabetics discussed above, coconut sugars also have other benefits such as:
Meaningful calories: Most sugars contain an almost negligible amount of nutrients to justify their high-calorie content. Some forms of refined table sugars are known to have 99.5% empty calories. Coconut sugars outshine most other sugars like this by being rich in a variety of minerals such as iron, zinc, and calcium and nutrients such as potassium, magnesium, and sodium.
Raw antioxidants and vitamin C: Since coconut sugars only undergo small processing, most of its rich antioxidant is still contained in the end product. Antioxidants are good for fighting off free radicals that are potentially cancer-causing agents in our bodies. Because Vitamin C from the source is also not destroyed during its processing, benefits of boosted immune systems, and the promotion of healthy joints and skin are also observed.
Short-chain fatty acids: Coconut sugar also contains a good amount of healthful fats that regulate the good HDL cholesterol levels in the blood and this can even support heart health.
No bone char: Some forms of regular sugars in the market may contain traces of bone char which is used to produce that white color and smooth texture. So, if you are an animal-loving diabetic, switching to coconut sugars will make sure you have played your part in saving the lives of some animals, as well as improving your own life with the healthier option.
It is important to point out that although coconut sugar may have all these micronutrients, a lot of it is minuscule in quantity and you would need to consume regularly for a long-time to derive a lot of its potential benefits.
Read: Best Protein powders for diabetics
Best Coconut Sugar Products to Shop Online:
Since coconut sugars don't undergo a lot of processing, almost all the products in this list are similar and manufactured the same way.
So, for ranking and differentiating products, we have chosen trusted reviews from Amazon users and other consumers, and also compared some specific features that each of these products mentioned below have, to make this list:
With an amazing 4.8 rating on Amazon, this seems to be the most popular product on this list.
Anthony's is also a very popular product in the USA, to begin with, as it is reflected through the words of a regular customer with the name L.M, who is a verified purchaser on Amazon, who said "The texture, flavor, and packaging are what I would expect from Anthony's. Never disappointed in all the years of ordering. Use it in place of sugar in most of my baking and general consumption. Thank you Anthony's!"
Thank you, Anthony's, indeed, for being one of the most trusted manufacturers in the country!
This product is certified USDA organic, non-GMO, and verified Gluten-free.
The most attractive feature of this product is the 5 lb resealable pouch that makes this product very versatile in the kitchen.
With also securing a 4.8 rating, this is also top quality and fan-favorite item in this list.
It is also all-natural and 100% organic, certified kosher, and devoid of harmful additives or artificial chemicals.
Scottsdale Zinner, a top-rated purchaser on Amazon, described the product "No lumps!" and went on to say "This coconut sugar is well packaged and is very finely ground so there are no clumps or lumps. Excellent product".
Another verified purchaser, Sheri Beckerman also echoed "This is a smooth, non-clumping sugar."
This seems like these customers have had bad experiences previously with some other products but are now completely satisfied with this product.
They are also certified USDA organic, gluten-free, non-GMO, and are a paleo-diet friendly variant as well.
Certified with the usual, USDA organic, non-GMO, gluten-free, and vegan. But it has some special tags as well including an SQF (safe quality food) certification with an excellent rating, which shows the manufacturer's commitment to providing quality foods in the market. And it also seems to be supportive of keto-diets.
Their quality standard is reflected in their 4.7 ratings on Amazon with 82% of consumers giving it a 5 star!
"It has a wonderful flavor when mixed into coffee that you would barely notice isn't real cane sugar and it certainly doesn't taste like chemicals. By itself, the product has a rather molasses-like flavor, but I haven't been able to discern any significant flavor difference once it has been mixed into food." – words of a top-rated reviewer having 104 people who voted this review as 'helpful'.
It comes in a pack of 1-pound pack divided into 6 packets and can provide 114 servings of 1 tsp (4g).
It also comes in a resealable pouch and is a certified USDA organic, non-GMO, gluten-free, certified kosher, and supports a paleo-diet as well.
This product has a 4.6 rating on Amazon with almost all of the reviewers saying they were impressed and enjoying this item.
This product comes in a huge 6 lbs bag that makes sure to supply around 680 servings per container. Wow! That's enough to take care of your sugary needs for a long time indeed.
Because of its huge size, this is the most heavily priced product on this list with one bag costing around $31.
So, if you are confident of your commitment to coconut sugars then definitively go for this product.
A simply designed product, that's certified USDA organic, gluten-free, fat-free, and kosher parve. It comes in a 1 lb bag.
"better than regular sugar" is what a verified purchaser described and went on to say "I love this sugar and use it for many things. Once in a while, I have a spoonful to enjoy the taste." – U.B Anderson. We wouldn't recommend that latter part to diabetics here of course.
"I'm addicted to this!" described, Mary Harrer, who went on to say "This is yummy and great! I love the flavor and texture. If you've never had it then expect I light brown sugar and honey kind of taste (very light). It is so good on top of banana bread :)"
An excellent suggestion that I'm going to try immediately.
This particular variant comes in a 1.5 lbs attractive and airtight jar, unlike the other products that were mostly packet shaped and needed to be moved to another container for storing because even the resealable ones were not very reliable.

This is also the most rated product on this list, having over 4174 global ratings and still averaging an impressive 4.5 rating.
So, this is probably the most consistent product in the market and as usual, it is certified USDA organic, non-GMO, and gluten-free.
If you are still undecided looking at all the other ones listed above, then you can go for this product with closed eyes. Having been awarded multiple times by Clean Label Project for its purity, this item is a star in our list based on its assured quality.

Acing out an amazing 4.7/5 from the 2398 global ratings, this product is a certified people-pleaser, along with its other certifications like the usual – USDA organic, non-GMO, gluten-free, etc.
This product is a relatively new release and so far, doesn't have enough reviews on Amazon. But its confident approach in the market and its promise of refunding unhappy purchases sure looks like a promising build-up for providing top quality products. Even if you decide not to buy this product, for now, keep an eye on this one because everything about it looks like a sure recipe for success
Whichever product you find to your liking in this list, make sure that you're always watchful of the amount you consume every day.
30g is the recommended intake of sugar for adults.
Although coconut sugar may be tastier and healthier than normal sugars, it is still advised you cut out as much as possible from your daily diet.
With that being said, there is no reason why diabetics shouldn't enjoy this product any less. By regulating a strict exercise routine and following your diet and medications appropriately, you can surely enjoy this treat in moderation while still deriving its vast benefits overtime.