Diabetes is not a full stop for your cravings. You should really research what to crave and what not! No man can resist the smooth and creamy texture of Greek Yogurt. Do you know that they are diabetes-friendly?
Greek Yogurt With Strawberries – Healthy Dessert!
If a person is diabetic, picking a snack that he loves is not an easy task. It takes time as almost all the snacks or desserts need ingredients that are on the "DONTS" list of the diabetic diet. You can even enjoy your diabetes diet if you are ready to research diabetes-friendly ingredients that help in formulating delicacies.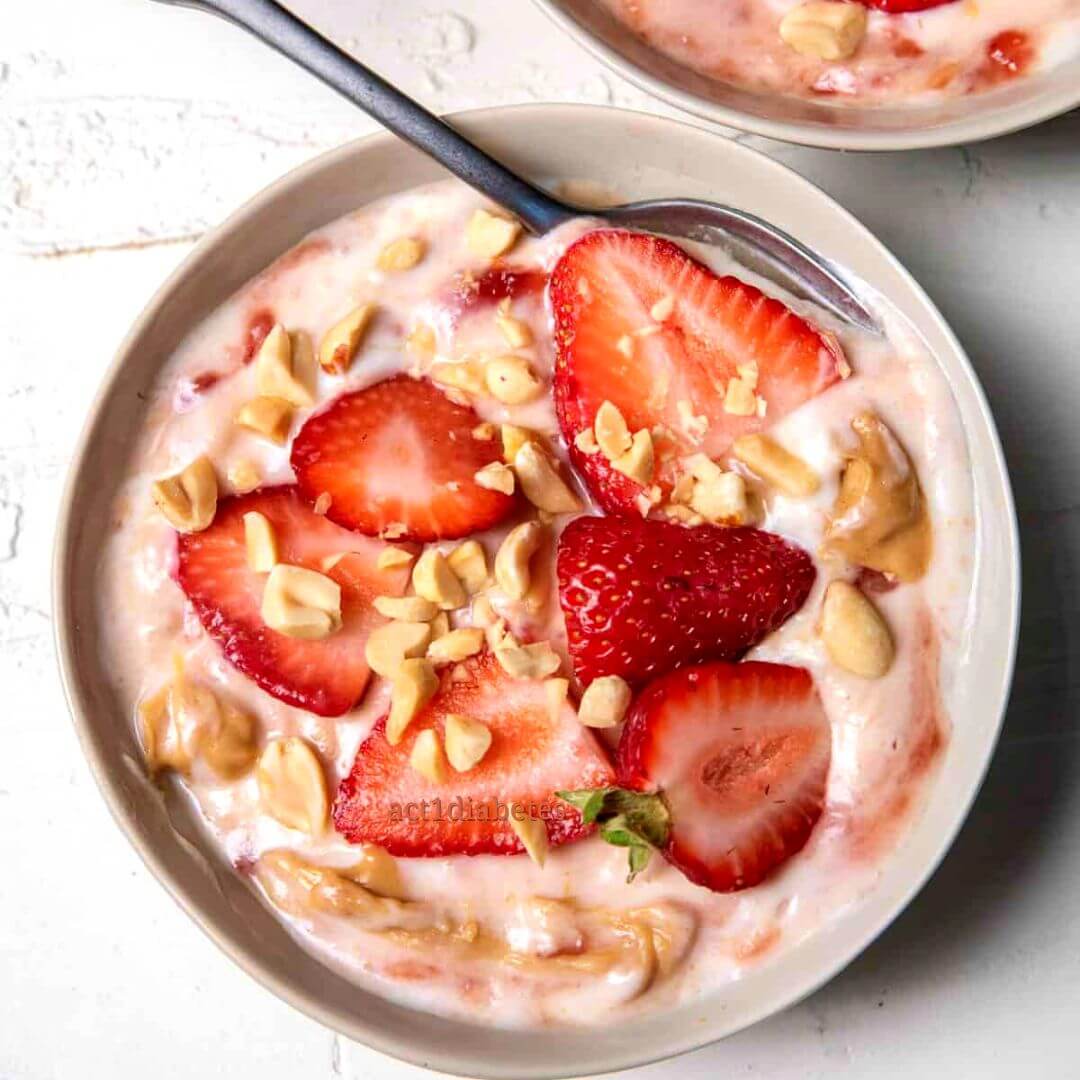 Strawberry dishes are always special as it is loved by everyone. Whatever experiment you try with strawberries it can be a success as the strawberry flavor is irremissible.
Greek Yogurt with Strawberries can be a wonderful dessert that everyone loves in the family. We will crave Greek Yogurt with strawberries as we are well aware of the thrashing taste and magical health benefits.
Greek yogurts are popular as they have the texture of a pudding, along with a sore or tart taste. It goes well with strawberries and is definitely a classic combination.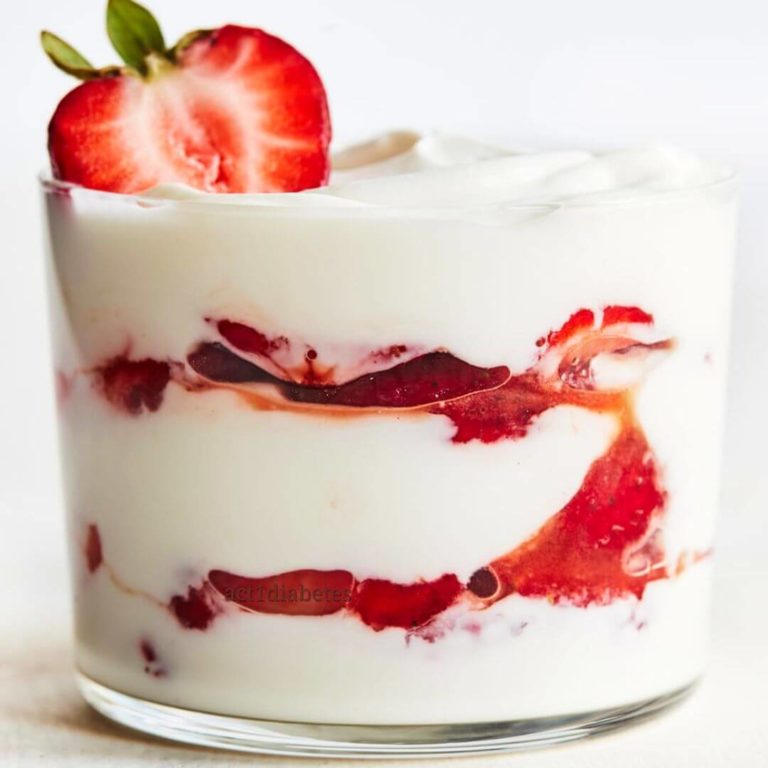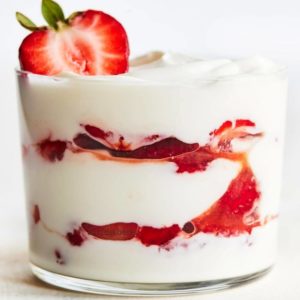 Greek Yogurt With Strawberries
Greek Yogurt with Strawberry is a wonderful diabetes-friendly appetizer. You can try the recipe and make ''snacking'' an easy thing.
Ingredients
8

Fresh Strawberries

1

tbsp

Strawberry Jam or Strawberry Jelly

2

cups

Greek Yogurt

2

tbsp

Fresh Honey
Instructions
Clean the strawberries by removing their top.

Wash it properly. 

Take a bowl.

Slice the strawberries and put them in a bowl.

Pour the strawberry jam or syrup into the sliced strawberries.

See that the strawberries are coated with syrup or jam.

Let it sit at room temperature for 30 minutes.

Time to get two bowls ready for mixing the mix and yogurt.

Pour Greek yogurt into two bowls. See that one is added to each bowl.

Coat the yogurt kept in the bowl with one tablespoon of honey. 

Stir the total mix in the bowl and see that it is mixed up well.

Top each bowl with the strawberry mixture and mix well. 

Your Greek Yogurt with Strawberry is ready to serve. Enjoy the delicacy.
 🍨 You can add nuts or dry fruits to the mix to add to the taste. 

 🍨 See that the entire mix has a creamy texture.

 🍨 See that the water content is removed from strawberries as there is a possibility to affect the texture. 

 🍨 It is suggested to use finely ripened strawberries as the sour flavor won't match it. 
Blueberry or raspberry can also be added to get a different dessert.
Nutritional Facts
Greek Yogurt with strawberries is highly nutritious and good for everyone. As it contains fewer calories, everybody can enjoy it. A serving of Greek Yogurt with strawberries will provide you with 80 calories. You will also get 11.7-grams of protein, 7.2-gram carbohydrate, 0.8 of dietary fiber, vitamin A and C.
Greek Yogurt with Strawberries is a healthy combination of all the necessary nutrients. It is a rich source of Vitamin C and A. You can also use frozen berries in this dessert. It is a good breakfast option, especially for those who are diabetic.
Serving And Storing Suggestions

 🍓 It is better to prepare the needed quantity of Greek Yogurt with strawberries as it does not taste good after 1 hour of mixing up.

 🍓 Refrigerate the yogurt once bought. Better to keep on the shelves than the door of the refrigerator.  

 🍓 Make sure that the yogurt is safe by checking the expiry date. 

 🍓 You cannot consume the yogurt from opened packet after 3 days. 

 🍓 Keep the yogurt in an airtight container as it easily absorbs other odors. 

 🍓 You can enjoy Greek Yogurt with Strawberries as a snack or dessert. You can enjoy any soft drinks or juices. 
Yields
Strawberry and Greek Yogurt mixture can be consumed by two people if you made it with 8 strawberries. And two cups of yogurt. It is best suitable for people with diabetes as it has fewer calories than any other dessert. If you are using low-fat yogurt, you can be more confident to enjoy it.
You Might Also Like: